Creating an Animal Painting
Animals seem to be my thing when it comes to painting. Thinking back, there's only one major piece I've created that didn't have an animal in it.
Having a subject like an animal offers the possibility of so much detail and expression. Spending time looking through reference images, researching the animal online, and in some lucky cases seeing them in real-life, I get to learn so much about them as I paint.
Get references
I never try to paint from memory. From experience that tends not to go well. I gather reference images straight away, before starting any other step and sketch out some rough ideas. The intent here isn't just to copy an image, but to find interesting and powerful stances and expressions. I try to build up a single image from a selection of photographs for example, using high-quality images in order to include a lot of detail.
Creating realism
I won't go into too much detail about my overall method - you can check out my process blog post for that. When I have a design I'm happy with, and it's on the canvas, I start painting. Everything apart from the eyes is crafted in white paint, in precise detail.
The key phrase to remember here is "build up". With the vast majority of the animals I have painted, they have fur, and to get that effect in any way accurate I build the paint up in layers.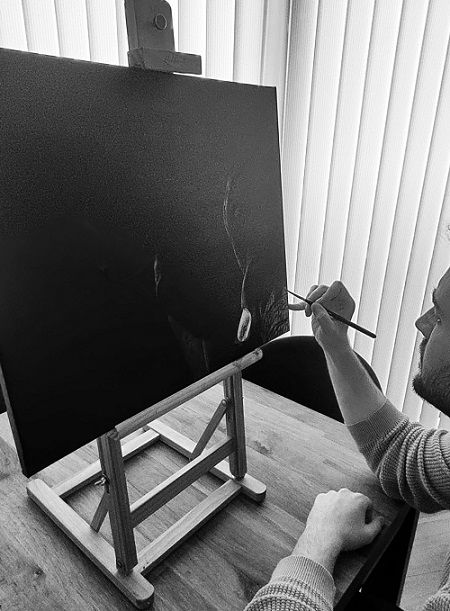 Just think about a real lion's fur for example. They don't just have a single layer of hairs on their body. There are many layers on top of each other all interlocking to create a thick skin, which helps to control their body temperature. This is similar to how I approach fur on a canvas. I work in small areas and build up layers of brush strokes, with lighter areas gaining more layers, and darker areas receiving fewer.
I also consciously follow the direction in which the animal's fur naturally flows. Just like the hair on our own heads, there is a path in which fur will follow along the body. By painting my brush strokes in the same path, the fur appears three-dimensional and lifelike.
Having some fun with it
Of course, these rules don't need to be stuck to. An animal painting can be as realistic or as abstract as desired. The colours used can be true to life, or they can be completely random. It can contain one animal, or fifty.
The beauty of art is that the only constraints that exist are the ones put in place yourself. It is the artist's decision how to portray the world; the story to tell. People can stand in front of a piece and make their own judgements, but they'll never truly understand the effort that went in, the challenges faced, and the joy of completion.
Have some fun with your painting. Go wild, and be creative. As the legendary Bob Ross said "There are no mistakes, only happy accidents". Take pride in your painting no matter what your style is, no matter what your abilities are.
Paint for no other reason than the simple joy of doing it.
Yours,
Joseph Cashmore - ART JC